If you are new to Small Actions Greater Good, I'd like to introduce myself and tell you my small business story.
Cheers! I'm Tanya Quinn, a Chief Operations Officer, Social Responsibility Advocate, and founder of Small Actions Greater Good. I believe that the power to make a difference in our world isn't only for large corporations. As Small Business Owners we can make simple, but effective changes, that not only contribute to our businesses and the world around us, but when combined with the efforts of other like-minded Small Business Owners, can truly contribute to a greater good.
Small Actions Greater Good is a passion project turned business. Something that has been bouncing around inside my head for decades – before I even understood what I wanted to do…
My High School Introduction to the Greater Good
I've always had an overwhelming need to do "something" to make the world a better place. It seems to be a desire naturally born into me. I'd love to tell you I spent a lot of time volunteering growing up, but that simply isn't true.
I was, what I think, a very normal midwestern kid. I was raised by fabulous and very hardworking parents who instilled in me a love for learning and reading, a respect for education and hard work, and a passion for hobbies. I was obsessed with dance classes and played on the volleyball team, but I wasn't that kid who took part in a ton of school activities.
At my high school, if you ended up in the honors classes, science and math were the only paths available. To date myself, this was the mid-90s. I'm sure that our school has way more options now. I wasn't that great at math, so the choice was made for me… science it was. Did I LOVE science? Not really, but I did like the structure and the clearly defined rules and systems.
As I've always been an overachiever, if I was going to do science, I was going to DO SCIENCE. Go big or go home has always been a family motto.
In my Junior year, I asked my chemistry teacher to mentor me for a Science Fair project. I picked Acid Mine Drainage as my focus, which was a common environmental issue in Eastern Ohio/Western Pennsylvania where I grew up. I studied the primary causes and tried to develop an in-situ treatment to install directly in the streams.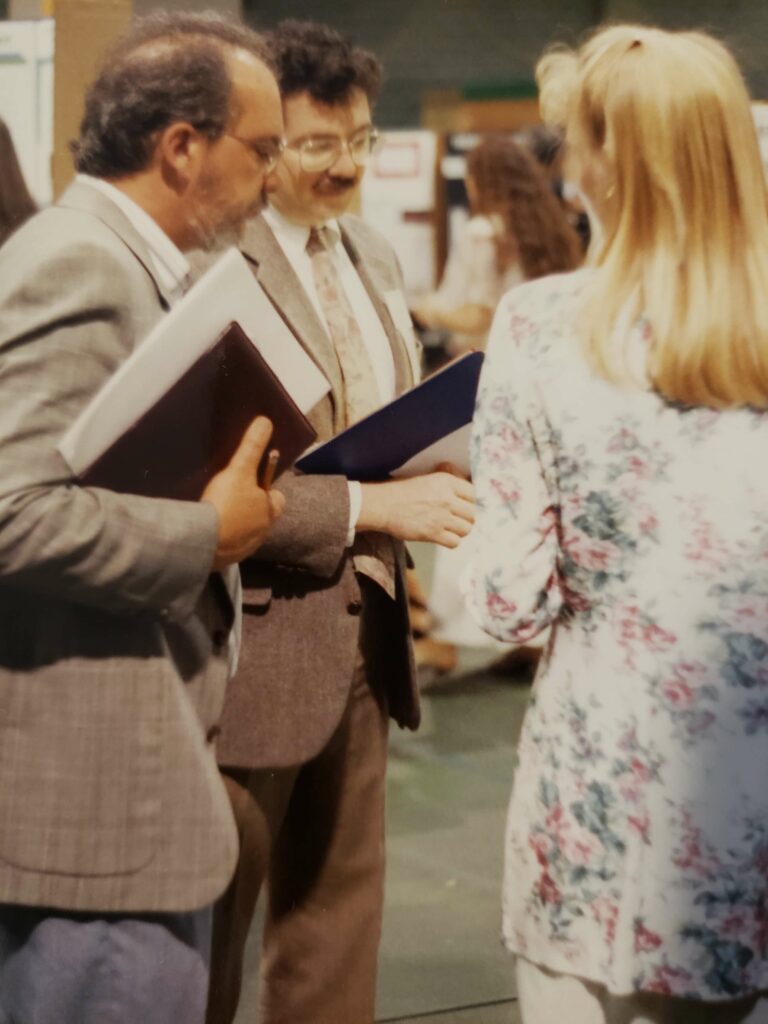 Was it a great success? Did I design a system still being used? No. But it was good enough to take me to the Regional Science Fair, the State Science Fair, and even the International Science and Engineering Fair (ISEF) which I had never heard of.
Attending ISEF made a huge impact on my life. It is like the Super Bowl for Science geeks. I'd never met so many brilliant individuals and I was honored to simply display my project at the event. I'll never forget meeting a fellow Junior who had designed a working prototype for an under-the-counter recycling and composting unit that was pending a PATENT. At 16!
Without realizing it, I had stumbled onto kids who wanted to help make a difference in the world through their efforts. I had found my first tribe.
I loved the entire science fair experience so much that I did another project for my Senior year. In what I've since learned is a natural personality trait of mine, I didn't expand upon my project from the previous year. I went charging off in a new and different direction just because I wanted to learn about something else.
I conducted a study of the historical habitats of the Buckeye tree in correlation with its microclimates and looked at potential future impact from climate change (i.e. where their habitat may need to migrate). I like to say that I was ahead of the curve considering climate change! Amazingly, my project again took me all the way to ISEF and a whole new group of amazing do-gooders.
After my experiences with ISEF, I was convinced that I wanted to find my way of making a difference in the world. I changed my proposed major and went off to Florida for college for Environmental Sciences with an emphasis on Oceanography. I wanted to better understand ocean dynamics and then move into policy or law to help protect one of our most important global resources.
No Matter What I Did, The Work Was Never Enough
One of the biggest things you can plan for in life is that your best-laid plans often go completely and utterly astray.
After completing my undergraduate degree and some post-graduate research, I moved to the Northeast intending to start a Master's Program in Environmental Policy. Through some odd twists of fate, they lost the funding for my program shortly before I was supposed to start. I found myself in Connecticut with no earthly clue what to do.
Thankfully, I stumbled upon a unique small business – a consulting company that focused on environmental and regulatory solutions often associated with coastal and marine-related projects. I loved the culture and energy of the small business and its passionate and dedicated owners. I could also thankfully apply some of my college education.
During the first few months there, I discovered a strong affinity for project management and strategy development. I loved the structure, planning, and consistency of standard business systems and tools. I never expected it would be one of my strongest business skills that would continue through 20 years in Corporate America and contribute to where I am today… but I'm getting ahead of myself.
I also didn't realize until years later that this small business was an early example of a socially responsible small business. They had a very strong employee support program and many of their projects were focused on environmentally friendly projects. I hadn't heard of "Social Responsibility" at this point.
While working at a different environmental firm a few years later, someone asked me to talk to our office managers about their activities to contribute to the local community. After a few short conversations, I realized the company was doing way more to contribute to the greater good than we knew! I immediately saw an opportunity to share these contributions with other employees and our clients.
So, I did what I've always done, I turned to research and stumbled across "Corporate Social Responsibility (CSR)". It was love at first read. I couldn't get my hands on enough research. I developed the concept for a community engagement plan as a starting point for CSR in our company and presented it to senior management.
Amazingly, my project was approved… I was given a green light to implement the first phase of a Corporate Social Responsibility Program. However, less than 1 month later, fate struck and a much larger corporation bought us. They had higher priorities, and my project was dropped. I was crushed.
After that first introduction, I made it a habit to keep up to date with articles, publications, research, or new standards related to CSR. I had binders filled with printed information. I had hanging files stuffed with articles. I had flash drives loaded with studies. I loved the grand scale of CSR – the entire concept! I loved that there was an overall structure to make a difference, but so many different options to implement the ideas. It perfectly combined my need to do something more and my strengths for projects, processes, and strategy!
I was infatuated… but unfortunately, there were few opportunities with the new owners. I continued to hone my business skills for project management, process development, and strategic management because I was good at it but also because it was a distraction. However, my need to contribute "MORE" never went away.
To fill this void, I volunteered with a few nonprofit organizations. That wasn't enough.
I became an active board member for two nonprofits. That wasn't enough. I went to work for a nonprofit for a few years. That wasn't enough.
I even moved states to work for another consulting firm in a more strategic role. I thought that perhaps it would finally feel like "enough" to help support the overall company strategy (and I hoped to introduce Corporate Social Responsibility to the executives there). 
My "I Was Here" Realization
Along another thread of my life, I had married my best friend from college while I was trying to find my path to doing good. We were both climbing the corporate ladder and enjoying our marriage. But, in a parallel path to my career, we wanted more. We wanted to expand our family. But fate had other plans. We eventually discovered that pregnancy was not an option.
In 2016, after three long years pursuing adoption options that made for some rough times, my husband and I were blessed with the most precious, beautiful baby girl I have ever seen. In that one miraculous moment, my entire world shifted.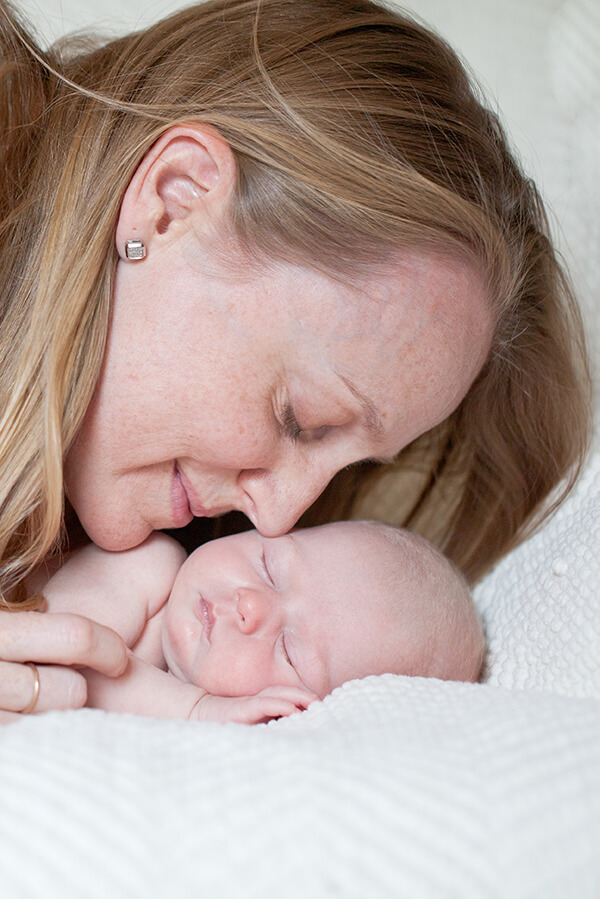 What I thought was a simple personal desire to make a difference became an obsession. I took one look at her face and knew that I HAD to do more. I needed to find some way to make the world a better place just because she was in it!
Almost a decade earlier I had fallen in love with a country song by the soon-to-be lead singer of Lady A – Hillary Scott. Back then, I used to search MySpace to find new artists before they made it onto the radio. I'll never forget randomly stumbling across "I Was Here" and being shaken to my core. I must have played that song 100 times in the first few weeks. The song played like a soundtrack in my head for years as I was trying to find my way to make a difference.
After adopting our daughter, "I Was Here" became a personal anthem. I highly recommend that you take a few moments and really listen to the words (link to Lady Antebellum's YouTube page for "I Was Here").
I quit my corporate job a few months after our daughter was born to take some time to just be a Mom. Especially as there were a few years where I wasn't sure that was going to happen. I loved every moment as a stay-at-home Mom, but the NEED to do more was a constant companion.
Eventually, I started a photography business focusing on family portraits and events. I always loved taking photos and thought it would be a great avenue to try out some social responsibility ideas in my own small business. While I loved working with my clients, once again… no big surprise here… IT STILL WASN'T ENOUGH. But I wasn't sure exactly what I was looking for.
One day while brainstorming how I could help make a difference locally through my photography business, I started googling to find resources for Small Business Social Responsibility. I will never forget dumbly staring at the search results. I couldn't find anything that wasn't fluff or that didn't recommend applying "Corporate Social Responsibility" practices.
Ummm…… what?
After spending 20 years in Corporate America, I knew that resources designed for corporate use would be way too much for very busy Small Business Owners to easily embrace. And just like that, I had an epiphany.
Making a difference through actions of my own would never be enough. I wanted to make a difference on a grander scale – by inspiring thousands of others.
On a beautiful rainy morning (I'm truly a pluviophile – a lover of rain), the concept for Small Actions Greater Good hit me like lightning. MY way to make the world a better place would be to inspire thousands of other Small Business Owners to take their own small actions and to provide a framework specifically designed for them.
Within a few days, I had written an initial business concept. I created Small Actions Greater Good to provide Social Responsibility inspiration, resources, and training to Small Business Owners, who like me, want to improve the world around them, while also contributing to their business growth.
Are You Ready to Join Me?
If you feel the same way about your Small Business, I invite you to check out the free education and resources to get started or follow me on Social Media.
It's not all about me… I would love to hear your "My Small Business Story"! Share a comment below or on our Facebook page!