From the Small Actions Directory
As a Small Business Owner, your core brand beliefs and those you set for your business drive your decisions. These "business beliefs" may include your mission statement, core business values, your commitment to social responsibility, and more.
Not only do these beliefs act as guiding principles for you as the owner, but they can build trust and loyalty in your customers and employees, which can result in more sales and less employee turnover.
Don't believe this? Here are just a few studies to back it up (links to the studies are provided in the Learn More section below):
A study by Edelman Trust found that 81% of consumers feel they must be able to "trust the brand to do what is right" and 53% to 45% of consumers base their decisions to "buy a new product" or to "become a loyal customer" based on this trust.
A study by Yopto showed that 84% of customers are "more inclined to be loyal to a brand whose values aligned with theirs."
A survey by Qualtrics found that "employees who say their company's mission, vision, and values align with their own are far more likely to recommend their employer as a great place to work (70% vs. 25%) and to say their work gives them a feeling of personal accomplishment (72% vs. 29%)."
But, for your customers and employees to feel connected to your brand values and mission, they must be AWARE of them. Many businesses publish these details on their website, but very few display them in their business and/or storefront.
Every business/storefront is unique, but here are a few ideas to get you thinking:
Feature elements of your business beliefs in employee breakrooms or lunchrooms.
Install beautiful eye-catching signs on an open wall that feature your business beliefs (for employees and/or customers).
Place a sign near the checkout highlighting your mission for your customers.
Include a thank you card with customer purchases that highlight your beliefs.
*It's important to make sure your Small Actions connect to your business to make them effective. Learn more about what it means to be effective in our related blog post.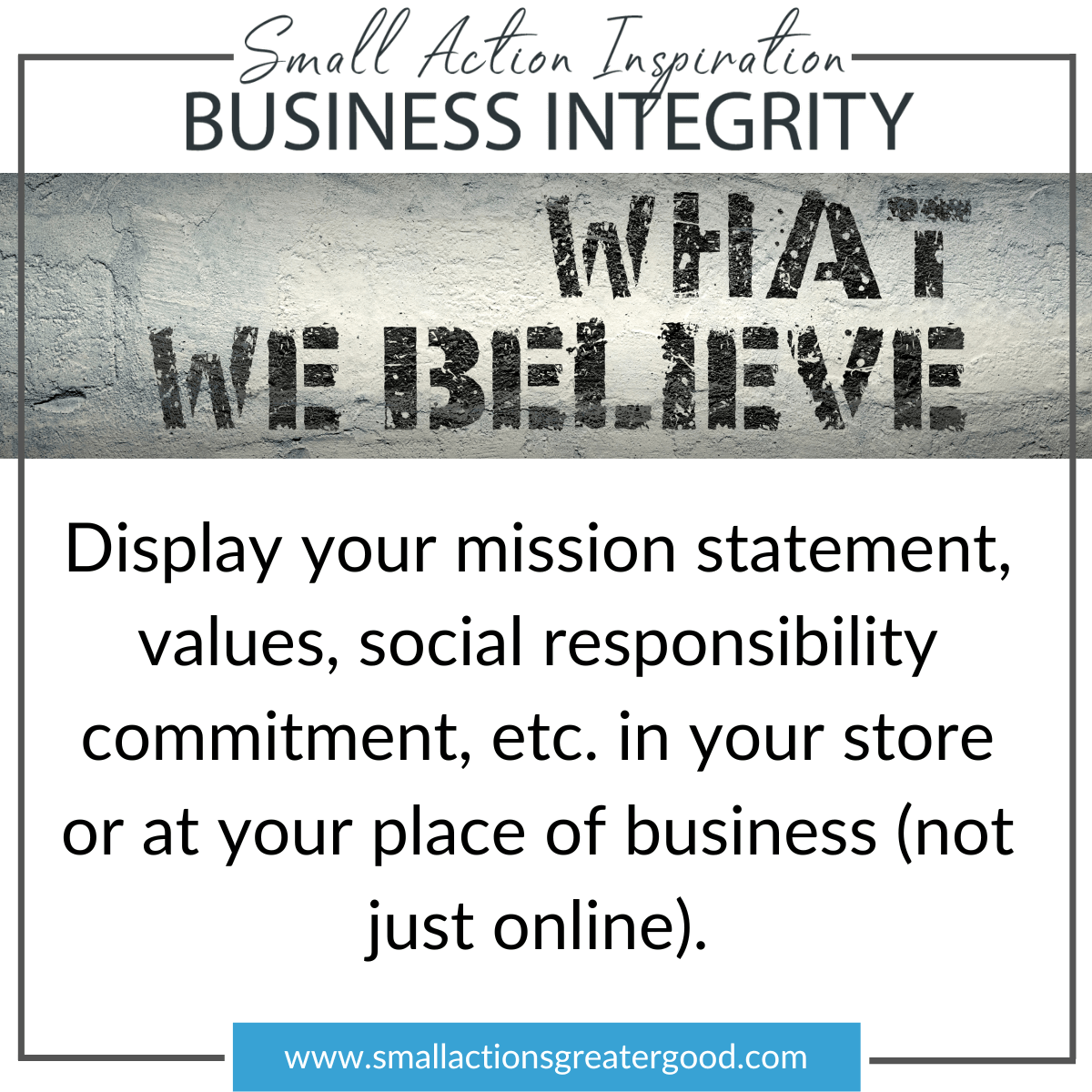 Interested in Learning More?
Related articles about this action:
Ideas for getting started:
Published studies:
Small Actions are steps that you can take to do more social good through your Small Business.
They are organized into 4 categories as part of the Small Actions Framework, a unique approach to Small Business Social Responsibility.
A complete list of the categories, and subcategories, is maintained as a blog on this site.
About Small Actions Greater Good
Small Actions Greater Good provides education, resources, and training to make it easier for Small Businesses Owners to do more effective social good that benefits their business, makes them proud of their efforts, and inspires others (also known as Small Business Social Responsibility).
Learn more about Small Business Social Responsibility by visiting our Free Education and Resources page.
Browse Complete Directory
Review Small Action Inspirations for ideas on how to do more social good through your Small Business.