From the Small Actions Directory
Employee Fitness Benefits
Encouraging your employee's physical fitness offers quite a few benefits to both your employees and your business. Often physical fitness programs fit into a larger Employee Wellness Program, but smaller actions can be taken if you aren't ready to embrace an entire program.
One of the easier ways to encourage physical fitness is to offer employee fitness benefits such as paid gym memberships (at a local or nearby gym), paying for virtual gym memberships (which have become more popular since Covid), or comping home gym equipment. Or, perhaps even a general fitness allowance each employee can allocate as they wish.
Why consider this action? More physically fit employees:
Are overall healthier, happier, and less stressed at work.
Miss less work time, resulting in higher overall productivity and less medical costs.
As an extra benefit, you may also be able to deduct some of these costs. Make sure to check with your tax accountant.
See below for additional resources.
*It's important to make sure your Small Actions connect to your business to make them effective. Learn more about what it means to be effective in our related blog post.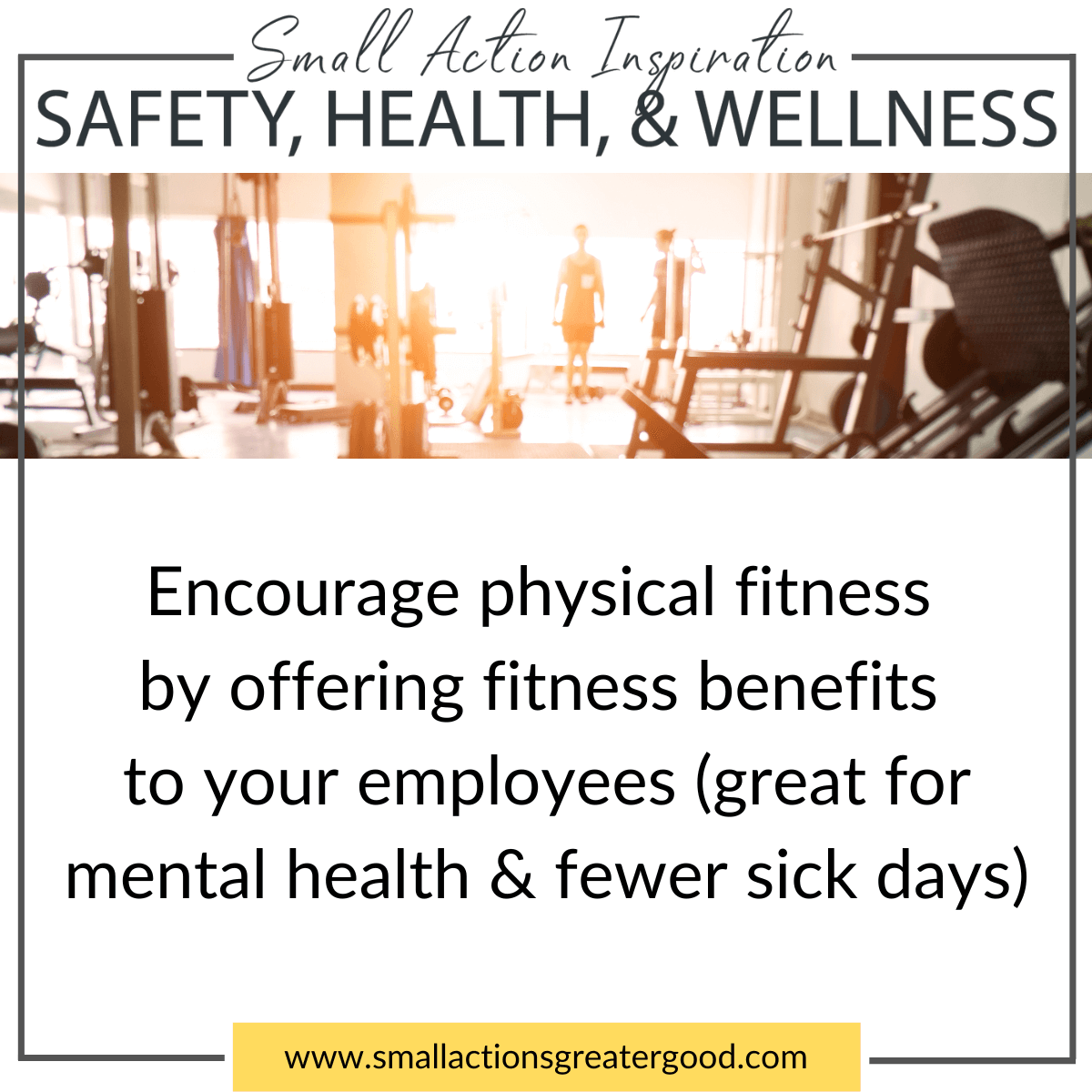 Interested in Learning More?
Articles about employee fitness and physical activity:
Ideas for getting started:
Published studies:
Information about potential tax benefits:
Small Actions are steps that you can take to do more social good through your Small Business.
They are organized into 4 categories as part of the Small Actions Framework, a unique approach to Small Business Social Responsibility.
A complete list of the categories, and subcategories, is maintained as a blog on this site.
About Small Actions Greater Good
Small Actions Greater Good provides education, resources, and training to make it easier for Small Businesses Owners to do more effective social good that benefits their business, makes them proud of their efforts, and inspires others (also known as Small Business Social Responsibility).
Learn more about Small Business Social Responsibility by visiting our Free Education and Resources page.
Browse Complete Directory
Review Small Action Inspirations for ideas on how to do more social good through your Small Business.