From the Small Actions Directory
A Consumer Report survey in 2020 revealed a "growing food-insecurity problem, with people of color disproportionately affected." At the time of their study, 1 in 5 Americans surveyed had used a food bank for help. And as inflation rises in 2022, long lines are anticipated again.
Encourage your employees and customers to think about others in need and donate to a food drive at work! No matter the size of your business, local food banks, and charitable organizations are always looking for donations. And while most people think of food drives going into the Thanksgiving and Christmas holidays, they can be organized any time of the year. You can come up with your own unique theme or talk to the local food drive to learn what they need most and when.
Many of the resources online provide ideas for communities, schools, and other organizations to host a food drive which will give you some ideas (links are provided below), but here are some additional thoughts to consider specifically for small businesses:
Planning a new product or service launch? Find a creative way to connect a food drive to your launch.
Want to encourage your customers to visit your storefront? Offer a small donation in exchange for donated items for your food drive.
Want to spread your business name into the community? Invite your employees and/or customers to ask friends, family, and neighbors to contribute (and share your company name). Advertise or submit press releases to your community about your food drive efforts.
Want to add on volunteer opportunities? Ask the food bank if they need help sorting donations at their facility.
Want to encourage leadership development with some of your staff? Nominate employees to strategize, organize, and run the food drive.
Want to encourage team building at work? Have your employees break into teams to make their own independent plans to collect donations and potentially compete against each other.
Don't want to collect individual food items? Work with someone to sell pre-made boxes for a set amount.
See below for additional resources.
*It's important to make sure your Small Actions connect to your business to make them effective. Learn more about what it means to be effective in our related blog post.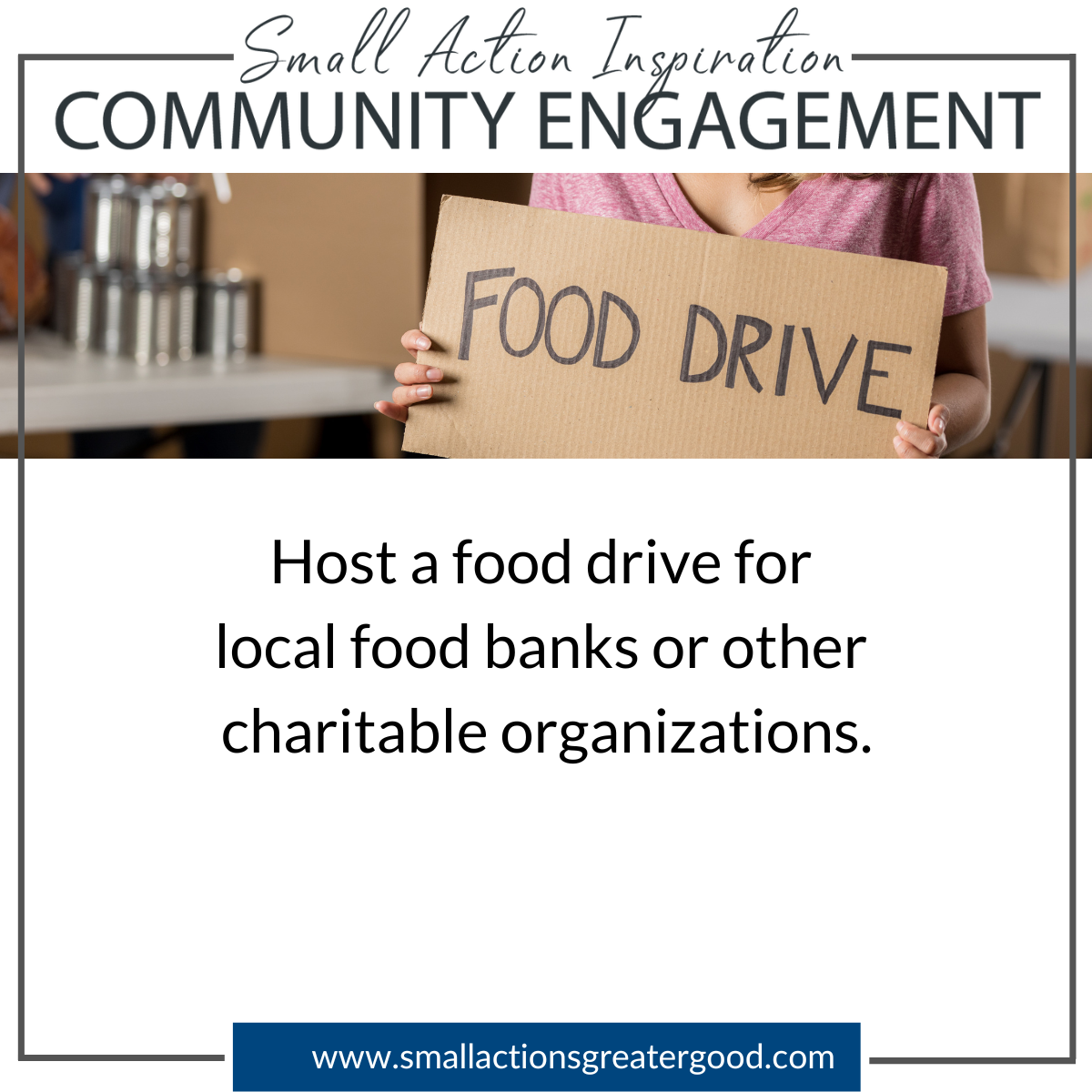 Interested in Learning More?
Articles about food drive needs:
Ideas for getting started:
Small Actions are steps that you can take to do more social good through your Small Business.
They are organized into 4 categories as part of the Small Actions Framework, a unique approach to Small Business Social Responsibility.
A complete list of the categories, and subcategories, is maintained as a blog on this site.
About Small Actions Greater Good
Small Actions Greater Good provides education, resources, and training to make it easier for Small Businesses Owners to do more effective social good that benefits their business, makes them proud of their efforts, and inspires others (also known as Small Business Social Responsibility).
Learn more about Small Business Social Responsibility by visiting our Free Education and Resources page.
Browse Complete Directory
Review Small Action Inspirations for ideas on how to do more social good through your Small Business.