From the Small Actions Directory
If you provide food service disposables to your customers, such as utensils, dishes, napkins, straws, etc., stop assuming they are needed. Instead, ask your customers before automatically providing them. This applies even if you use environmentally friendly products as not all customers dispose of recyclable or compostable products properly.
This could be done in person when ordering directly or online if you modify your order forms to include a checkbox.
This optional action may even be required depending on where you operate. For example, cities including Los Angeles, Washington DC, and Chicago are passing ordinances that require customers to request disposable products before they are given.
*It's important to make sure your Small Actions connect to your business to make them effective. Learn more about what it means to be effective in our related blog post.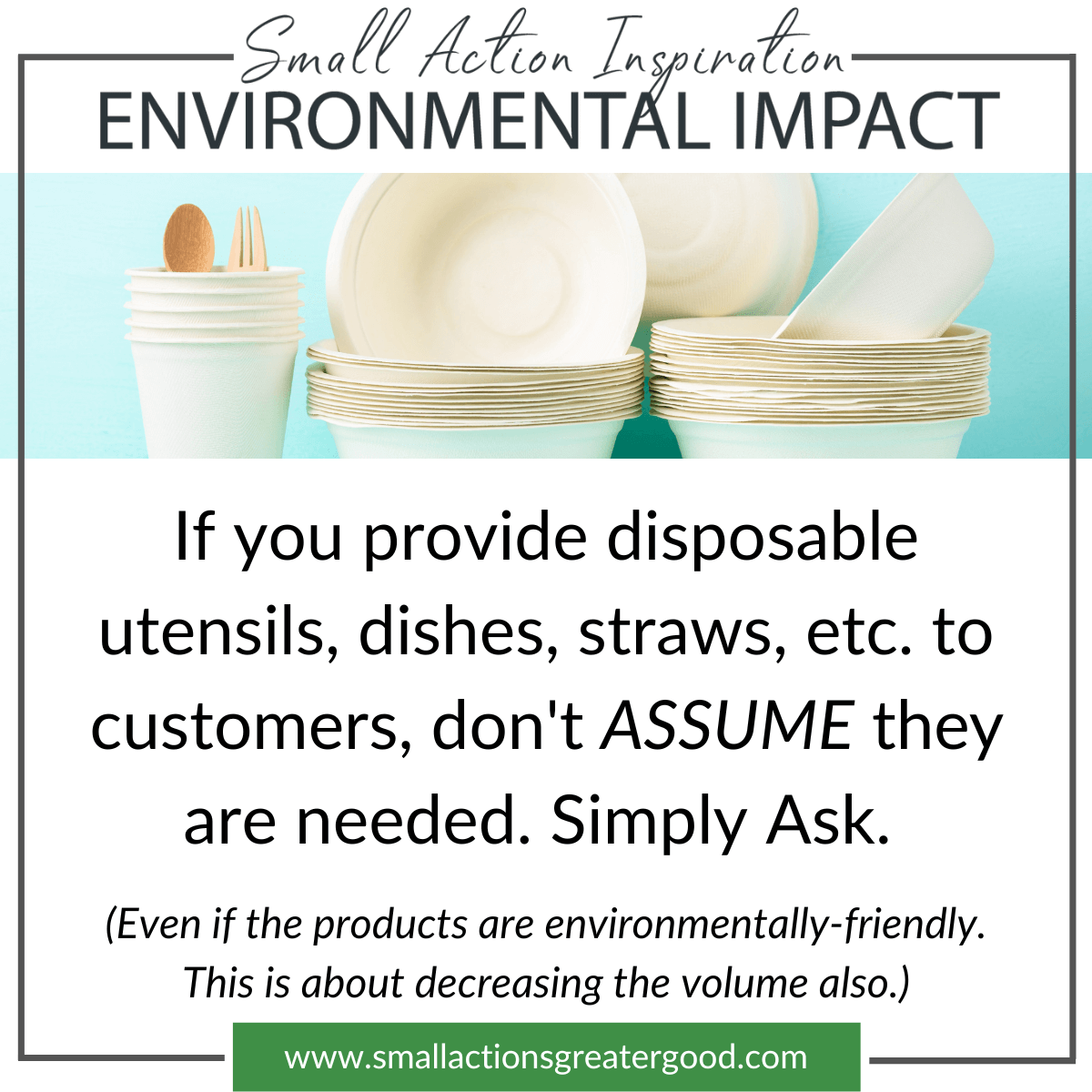 Interested in Learning More?
Examples of new laws requiring customers to ask:
Small Actions are steps that you can take to do more social good through your Small Business.
They are organized into 4 categories as part of the Small Actions Framework, a unique approach to Small Business Social Responsibility.
A complete list of the categories, and subcategories, is maintained as a blog on this site.
About Small Actions Greater Good
Small Actions Greater Good provides education, resources, and training to make it easier for Small Businesses Owners to do more effective social good that benefits their business, makes them proud of their efforts, and inspires others (also known as Small Business Social Responsibility).
Learn more about Small Business Social Responsibility by visiting our Free Education and Resources page.
Browse Complete Directory
Review Small Action Inspirations for ideas on how to do more social good through your Small Business.