From the Small Actions Directory
Host an Angel Tree (or Giving Tree)
During the holiday season, encourage your employees and/or customers to give to others who are less fortunate. One of the options for giving to others is to host an "Angel Tree" or a giving tree in your office and/or store.
If you aren't familiar with the concept, an angel tree or giving tree is a Christmas tree that is decorated with donation options or wish lists from a charity or charities you want to support. The most well-known program is the Angel Tree started by the Salvation Army for kids clothing and toys.  However, you can choose to create any type of custom giving tree to give back to your community, partner with a local Salvation Army branch, or find another similar charity program in your area. Don't have a physical location for your business? You can even create virtual giving trees! You'll find some additional resources below.
As with all Small Actions, don't forget to connect your action with potential benefits to your business. For example, consider the following actions and how the action can also benefit your business:
Invite interested employees to plan the event. Involvement in social giving fosters employee dedication and loyalty to a business.
Invite your employees to share the fundraiser with friends and family. You'll increase brand awareness and foster goodwill with family members.
Invite your customers to participate in the fundraiser. This provides additional touch points to communicate with your customers, provides incentives for them to visit your place of business, and fosters loyalty and dedication to your brand.
Share your efforts on social media and with local news. Generates brand awareness and potentially drives new traffic to your business.
Have you ever wondered where the initial concept came from? The idea for Angel Trees is attributed to a Salvation Army program created in 1979 to collect clothing and toys for kids at a Lynchburg, Virginia shopping mall. Wish lists were collected from kids and hung on a Christmas Tree in the mall. More than 700 kids provided wish lists, on Hallmark greeting cards shaped like angels, which were then hung on a Christmas Tree resulting in the name of the program. When the family who started the idea moved to Nashville, TN where it was featured on an Opryland radio and the idea rapidly spread.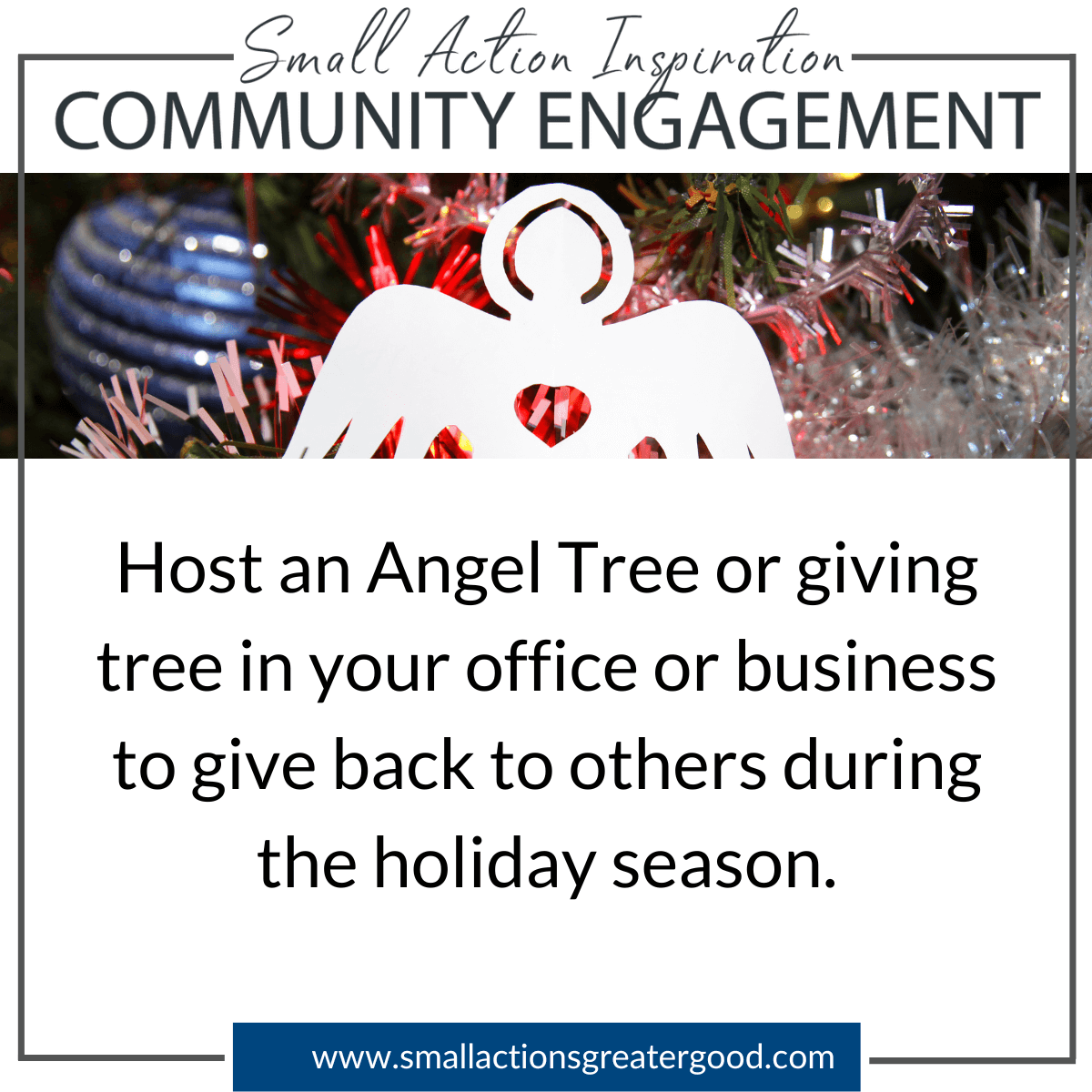 Interested in Learning More?
Articles about the action:
Ideas for getting started:
Small Actions are steps that you can take to do more social good through your Small Business.
They are organized into 4 categories as part of the Small Actions Framework, a unique approach to Small Business Social Responsibility.
A complete list of the categories, and subcategories, is maintained as a blog on this site.
About Small Actions Greater Good
Small Actions Greater Good provides education, resources, and training to make it easier for Small Businesses Owners to do more effective social good that benefits their business, makes them proud of their efforts, and inspires others (also known as Small Business Social Responsibility).
Learn more about Small Business Social Responsibility by visiting our Free Education and Resources page.
Browse Complete Directory
Review Small Action Inspirations for ideas on how to do more social good through your Small Business.