From the Small Actions Directory
Donating blood is important – most everyone will agree with that. But have you stopped to consider why?
The Red Cross has some interesting facts (here are just a few):
● Every 2 seconds someone in the U.S. needs blood and or platelets.
●Approximately 29,000 units of red blood cells are needed every day in the US.
● One donation can help save more than one life.
"The Red Cross provides about 40% of our nation's blood and blood components, all from generous volunteer donors. But supply can't always meet demand because only about 3% of age-eligible people donate blood yearly."
Let me say that again "only 3% of age-eligible people donate blood yearly."
You can help contribute to a much-needed, life-saving supply, by hosting an office blood drive to encourage your employees, customers, and followers to donate blood.
Don't forget to consider how you can benefit from this action. Share what, and WHY, you are hosting a blood drive. Ask your employees and customers to share it with others (expanding your business awareness). Offer a discount or special benefit to customers who participate (potentially increasing sales). As a reminder, it's OK to benefit from doing good.
See below for additional resources.
*It's important to make sure your Small Actions connect to your business to make them effective. Learn more about what it means to be effective in our related blog post.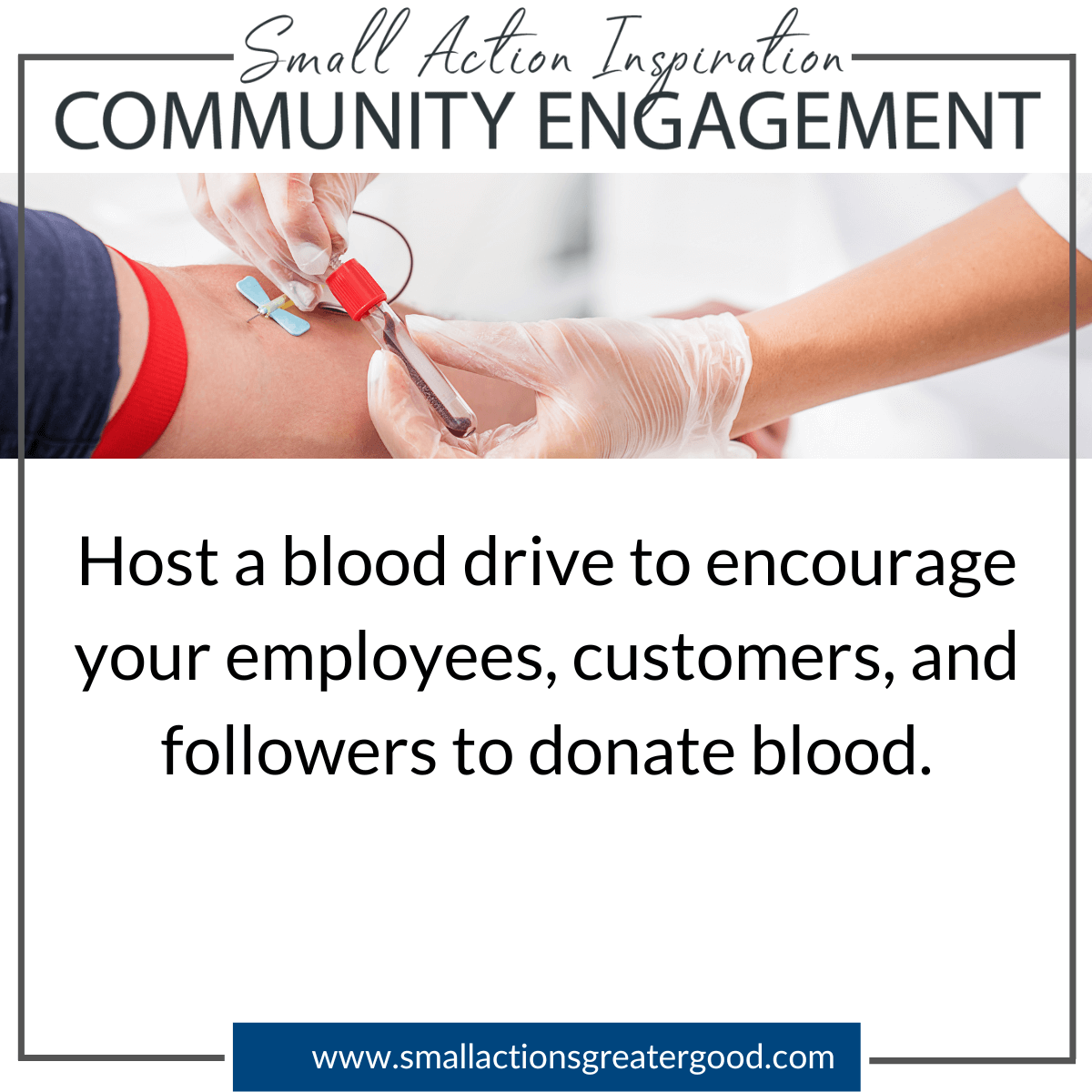 Interested in Learning More?
Articles about blood drives:
Ideas for getting started:
Small Actions are steps that you can take to do more social good through your Small Business.
They are organized into 4 categories as part of the Small Actions Framework, a unique approach to Small Business Social Responsibility.
A complete list of the categories, and subcategories, is maintained as a blog on this site.
About Small Actions Greater Good
Small Actions Greater Good provides education, resources, and training to make it easier for Small Businesses Owners to do more effective social good that benefits their business, makes them proud of their efforts, and inspires others (also known as Small Business Social Responsibility).
Learn more about Small Business Social Responsibility by visiting our Free Education and Resources page.
Browse Complete Directory
Review Small Action Inspirations for ideas on how to do more social good through your Small Business.