From the Small Actions Directory
The simple act of adding plants in the office has been proven to provide both mental and physical benefits for you and your employees. How? By reducing stress, providing a more welcoming environment, and cleaning the air (leading to fewer illnesses).
This is also one component of a larger design approach, Biophilic design, which involves incorporating the natural world into a built environment.
As with all social responsibility efforts, it's important to consider how an action can benefit your business and to take action to maximize your potential benefits. For example, in addition to reducing your employee's stress level, adding plants may also decrease the number of lost days (due to illness), increase productivity, and increase creativity. Your plant-friendly office may even help with the recruitment of new employees.
If you want to add plants to your office, take the time to do your research. Consider the space and lighting you have available, how often they will need to be watered, who will take care of the plants, if you have any pets in the space (some plants are toxic to animals), and more.
You can even hire a company to help select, buy/rent, and maintain the plants. And if you want to go one step further – consider installing an entire green wall!
See below for additional resources.
*It's important to make sure your Small Actions connect to your business to make them effective. Learn more about what it means to be effective in our related blog post.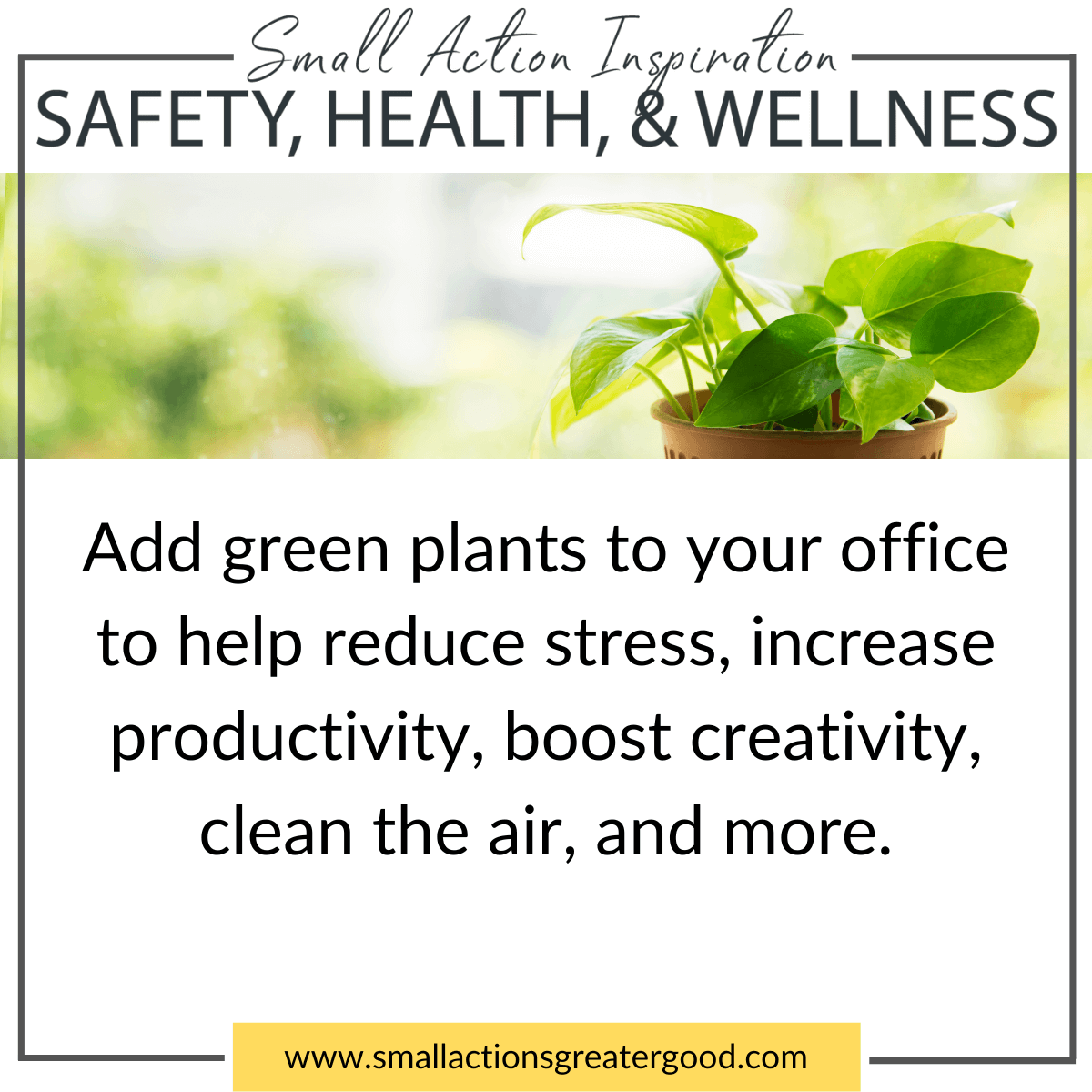 Interested in Learning More?
Articles about plants in the office:
Ideas for getting started:
Published studies:
Small Actions are steps that you can take to do more social good through your Small Business.
They are organized into 4 categories as part of the Small Actions Framework, a unique approach to Small Business Social Responsibility.
A complete list of the categories, and subcategories, is maintained as a blog on this site.
About Small Actions Greater Good
Small Actions Greater Good provides education, resources, and training to make it easier for Small Businesses Owners to do more effective social good that benefits their business, makes them proud of their efforts, and inspires others (also known as Small Business Social Responsibility).
Learn more about Small Business Social Responsibility by visiting our Free Education and Resources page.
Browse Complete Directory
Review Small Action Inspirations for ideas on how to do more social good through your Small Business.