From the Small Actions Directory
Taking a stand for or against a political and/or social issue can be scary for a business. Or it may not be scary if you feel strongly about your position.
It's not bad to take a stand, as long as you carefully choose your topic but it's very important to know your customers and employees and proceed with caution. And as long as the stand you are taking aligns with your business vision, mission, and values.
In some cases, it can even be beneficial to take a stand. A research study conducted by The Corporate Social Mind in June 2020, found that within the US, "The majority of consumers expect companies to take a stance on social issues. Right now, almost 60% of the public wants companies to give an opinion specifically on racial equity, social justice and anti-discrimination; almost half want the same for the environment/climate change." Unfortunately, as with many consumer studies, this appears to focus on larger corporations, but we can assume that consumers feel the same way about Small Businesses as well.
See below for additional resources.
*It's important to make sure your Small Actions connect to your business to make them effective. Learn more about what it means to be effective in our related blog post.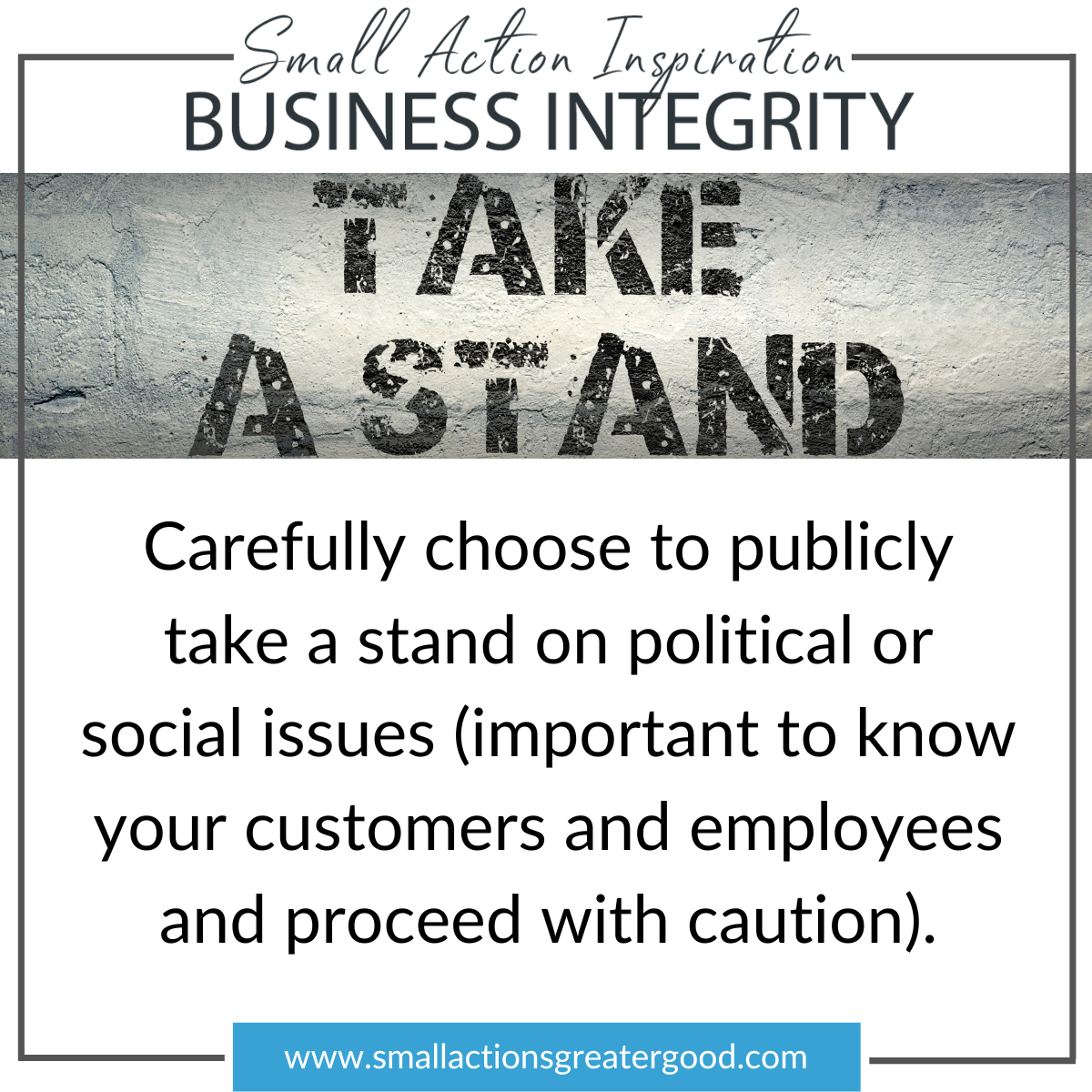 Interested in Learning More?
Here are some great articles to reference (most of this are discussing larger companies, but you can still learn from the content):
Small Actions are steps that you can take to do more social good through your Small Business.
They are organized into 4 categories as part of the Small Actions Framework, a unique approach to Small Business Social Responsibility.
A complete list of the categories, and subcategories, is maintained as a blog on this site.
About Small Actions Greater Good
Small Actions Greater Good provides education, resources, and training to make it easier for Small Businesses Owners to do more effective social good that benefits their business, makes them proud of their efforts, and inspires others (also known as Small Business Social Responsibility).
Learn more about Small Business Social Responsibility by visiting our Free Education and Resources page.
Browse Complete Directory
Review Small Action Inspirations for ideas on how to do more social good through your Small Business.